Welcome to Motorcycle Performance, in business at the same location for over 35 years.
We repair motorcycles, design and fabricate parts, do custom painting, build land-speed racers, and of course we are glad to do regular maintenance on your bike.
HOURS:
Mon-Fri 9-6
Saturday 9-12
TIRES
We have a large selection of tires including:
Metzeler, Dunlop, Michelin, Bridgestone, Pirelli, Continental, Kenda, and Shinko

Q&A at the Shop
Saturday, March 7th
1:00-3:00 pm
In the spirit of motorcycling camaraderie, I thought we would try something different at the shop. As many of you are aware, we have hosted clinics in the past on various aspects of motorcycle maintenance, but this year we would like to know what you want to learn about. We will have some coffee on and open to discuss whatever may be on your mind motorcycle-wise, and if we run out of things in that vein, we can move on to other subjects. I have been in the industry for forty years now, and have seen the start of most every trend in play today.
If you have something you were always wondering about, about tuning, riding, racing, motorcycling history... whatever you might be wanting to know! Bring your questions, pull up a chair and we will chat. If you want to send them in via email over the course of this next week, we could even get a bit of a head start, especially for more obscure historical or specialized inquiry.
See you there!



Sold:
2006 Harley Davidson
FLHX Street Glide

SOLD!

28k miles, Bad-Ass
Has something extra!

$10,999


stock#1519

Bikes Added:
2014 Honda
CBR-500RF

563 miles, Customized panels, s.t.

$4,495


stock#1524

2009 Triumph
Daytona

12k miles, s.t.

$5,990


stock#1516

2009 Yamaha
FZ-1

10k miles, sport touring, s.t.

$6,490


stock#1531

2007 Kawasaki
ZX-6R

Affordable late model sportbike. White paintwork can be a blank slate for your creative inspiration!

$5,495


stock#1515

2002 Suzuki
SV-650S

Runs exceptionally well. Sparkletastic paint, which offers unlimited cosmetic potential for a new future paint job...

$2,495


stock#1523

1981 Honda
C-70

Fresh motor, auto clutch.

$995


stock#1512

Sold:
2001 Honda
VFR-800

SOLD!

29k miles, non V-Tec, bags available

$3,295

stock#1526
Motorcycle Performance Online Store now up!

Customer Projects and Photos page!
Let us know if you would like to be featured!
Send photos and a description to mcperf@tds.net



Bonneville 2014 2015 Fundraising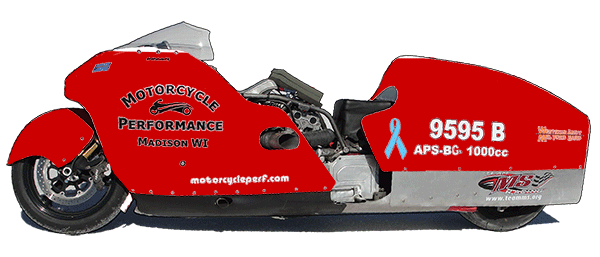 Thank you to all of our sponsors!
There is still time to become a sponsor! We are continuing to raise funds for the trip this year - see the fundraising page for details

SPONSOR T-SHIRTS
Available at the 2nd and 3rd tier of sponsorship
Limited production!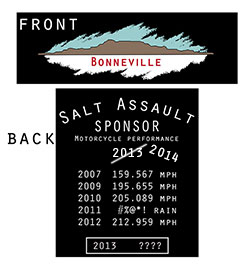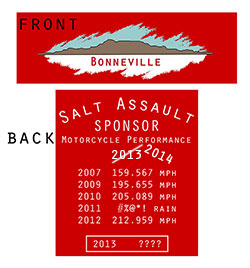 "YOUR NAME HERE" Fundraiser
The "Your Name Here" program is a grass-roots fundraiser that, if successful, would allow us to bypass the conventional big-sponsor process. This is an opportunity for an enthusiast to participate in what I feel is a unique program that has already shown substantial results. In order to make possible the goals we have set for 2014, we need financial help to get there. There is not necessarily an absolute guarantee of our expected performance (remember the soggy salt flats of 2011...) but you have the assurance of our best efforts to get there and make it happen.