Welcome to Motorcycle Performance, in business at the same location for over 35 years.
We repair motorcycles, design and fabricate parts, do custom painting, build land-speed racers, and of course we are glad to do regular maintenance on your bike.
TIRES
We have one of the largest selections of tires in the Madison area, including:
Metzeler, Dunlop, Michelin, Bridgestone, Pirelli, Continental, Kenda, and Shinko
Spring at Last!
Check out the article on bringing your bike out of hibernation: Waking the Beast

Also take a look at the Bad Gasoline tips to make sure you are giving your bike the fuel it needs to stay healthy throughout the season.

Bikes Added:
1975 Honda
CB-400F

25k miles (original speedometer). A very enjoyable riding motorcycle

This is a very nice example of the most desirable Honda models from the 1970s.

Dyno tested, carbs rebuilt, New battery, New rear tire.

$4,295 or offer

#1498
Coming Soon: Projects Page!



Bikes Added:
2007 Hyosung
GT-650S

200 miles (never ridden)

$2,795

#1499
Sold:
2004 Ducati
M-800

SOLD!

New Speedometer, s.t.

$3,495


#1484

2000 Ducati
900 Monster

SOLD!

fuel injected, slip-on Termis

$3,495


#1487

2002 Suzuki
SV-650S

SOLD!

17k miles

$2,495


#1462

2013 Kawasaki
EX-300 Ninja

SOLD!

300 miles,
fuel injected, s.t.

$3,595

#1467
Tech Tip Updated: BAD GAS

Bikes Added:
2004 Ducati
S4R Monster 996 Custom

110 rear wheel hp - hang on!

$5,995


#1488

2004 BMW
R-1150RT

95k miles

$5,795


#1476

2009 Suzuki
GZ-250

3,700 miles

$1,995


#1496

2009 Suzuki
GZ-250

3,200 miles

$1,995


#1497

Sold:
2008 Kawasaki
ZX-6R

SOLD!

7300 miles, s.t.
guerrilla graphics

$4,995


#1466

Bikes Added:
2004 Ducati
M-800

New Speedometer, s.t.

$3,495


#1484

1997 Honda
VT-1100C2 Ace

40k miles

$3,295


#1495

Bonneville 2014 Fundraising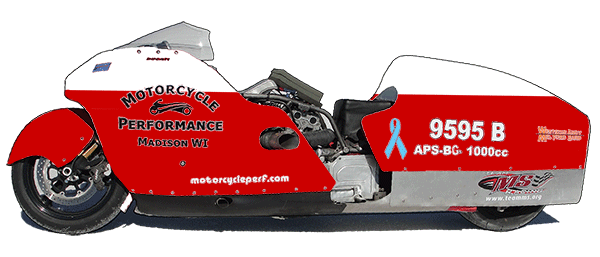 Thank you to all of our sponsors!
There is still time to become a sponsor! We are continuing to raise funds for the trip this year - see the fundraising page for details

SPONSOR T-SHIRTS
Available at the 2nd and 3rd tier of sponsorship
Limited production!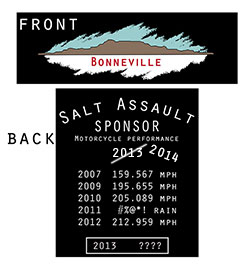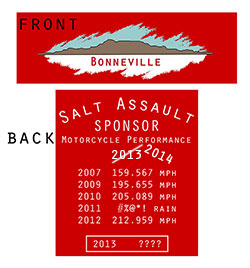 "YOUR NAME HERE" Fundraiser
The "Your Name Here" program is a grass-roots fundraiser that, if successful, would allow us to bypass the conventional big-sponsor process. This is an opportunity for an enthusiast to participate in what I feel is a unique program that has already shown substantial results. In order to make possible the goals we have set for 2014, we need financial help to get there. There is not necessarily an absolute guarantee of our expected performance (remember the soggy salt flats of 2011...) but you have the assurance of our best efforts to get there and make it happen.