Welcome to Motorcycle Performance, in business at the same location for over 35 years.
We repair motorcycles, design and fabricate parts, do custom painting, build land-speed racers, and of course we are glad to do regular maintenance on your bike.
HOURS:
Mon-Fri 9-6
Saturday 9-12
TIRES
We have a large selection of tires including:
Metzeler, Dunlop, Michelin, Bridgestone, Pirelli, Continental, Kenda, and Shinko
Read our Tech Tip on prepping the bike for hibernation, because Winter is Coming.
We had a bit of a backlog, but here we are!
News from Valdosta trials and tribulations, connecting with some fantastic individuals and making some progress.
Well, you know I keep thinking if I don't say it, it won't happen. Even after nearly 45 years of doing it though, it still happens.....
WINTER!
Unfortunately winter and street riding are a difficult combination at best. I have a few customers that ride nearly year-round and I can only shake my head in wonder. I did that for two years many years ago, and mainly during the first year due to curiosity (I am a dirt racer, I should be able to handle this, right?) and the second year financial incentives (broke car, broke me). After couple of trips to the ground, with everything going just fine and then wham! I decided that the future was somewhat limited in this endeavor. That is when I discovered winter storage.
We have offered winter storage here at Motorcycle Performance for 36 years and we have gotten pretty good a it, too. For rates starting at $49.95 per month (larger/touring bikes slightly more) we stabilize the gas, drain the carburetors (if accessible and applicable), charge the battery and check the fluids and pressures before retiring the beast for the winter. We generally recommend an oil and filter change at this time, in order to be ready for spring. Winter work can be scheduled and often storage is blended into the process.
All bikes are kept on site, so space is limited and often nearly used up by our return customer base. So call or e-mail now to reserve your spot. Spaces are filling up now.
Thank you,
Bill W.
P.S. Ice racing is crazy too!

Newly Added:
1996 Yamaha
XV-535

9k miles

$1995



stock#1520
Newly Added:
2005 Honda
CH-80

Same design since 1985!

$1,295



stock#1525

Sold:
1971 BMW
R60/5

SOLD!

A true classic, patina at no extra charge!

$2,695


stock#1506

2004 BMW
R-1150R

SOLD!

20k miles, New Battery, nice condition

$3,895
stock#1505

Classic Bike:

1974 Norton
Interstate

This model is not as common as the Commando, but shares most major components with it. 850cc motor, 4-speed Burman-type gearbox, sweeping exhaust, and the distinctive canted-motor styling give this bike high marks for design. Often called the most beautiful of the British bikes of that era, it held the distinction of being the quickets production bike in the world before becoming unseated by the venerable Kawasaki Z-1.

Own a distinctive piece of history.

$5,950


stock#1507
First Ducati in the 7's!
See the video on our youtube channel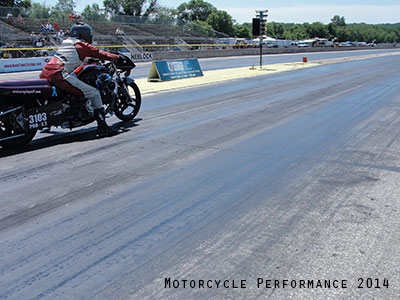 The Drag Ducati ran a 7.99 this Sunday, down at Byron Dragway. Great work to everyone involved, and thank you to the folks who came down to see it happen!



New! Customer Projects and Photos page!
Let us know if you would like to be featured!
Send photos and a description to mcperf@tds.net



Bonneville 2014 2015 Fundraising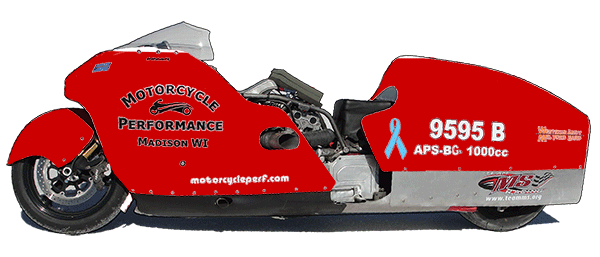 Thank you to all of our sponsors!
There is still time to become a sponsor! We are continuing to raise funds for the trip this year - see the fundraising page for details

SPONSOR T-SHIRTS
Available at the 2nd and 3rd tier of sponsorship
Limited production!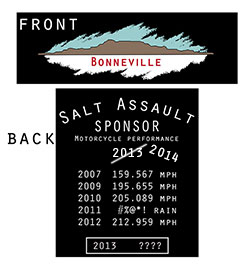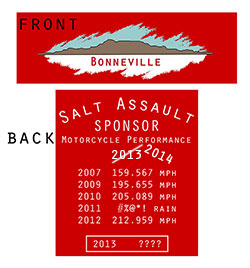 "YOUR NAME HERE" Fundraiser
The "Your Name Here" program is a grass-roots fundraiser that, if successful, would allow us to bypass the conventional big-sponsor process. This is an opportunity for an enthusiast to participate in what I feel is a unique program that has already shown substantial results. In order to make possible the goals we have set for 2014, we need financial help to get there. There is not necessarily an absolute guarantee of our expected performance (remember the soggy salt flats of 2011...) but you have the assurance of our best efforts to get there and make it happen.