Welcome to Motorcycle Performance, in business at the same location for over 35 years.
We repair motorcycles, design and fabricate parts, do custom painting, build land-speed racers, and of course we are glad to do regular maintenance on your bike.
HOURS:
Mon-Fri 9-6
Saturday 9-12
TIRES
We have a large selection of tires including:
Metzeler, Dunlop, Michelin, Bridgestone, Pirelli, Continental, Kenda, and Shinko
Summertime Riding
Take a look at the Bad Gasoline tips to make sure you are giving your bike the fuel it needs to stay healthy throughout the season. Ride safe, have fun!
Sold:
2004 BMW
R-1150R

SOLD!

20k miles, New Battery, nice condition

$3,895
stock#1505

Newly Added:
1998 Ducati
748

8,900 miles. The original! Exceptional motorcycle, new tires and belts

$4,495


stock#1511

1986 Honda
Spree Moped

Runs. NO title, can not be registered.

$300


stock#1512
Sold:
1985 Suzuki
GS-550ES

SOLD!

affordable riding

$1,695


stock#1460

Newly Added:

1974 Norton
Interstate

This model is not as common as the Commando, but shares most major components with it. 850cc motor, 4-speed Burman-type gearbox, sweeping exhaust, and the distinctive canted-motor styling give this bike high marks for design. Often called the most beautiful of the British bikes of that era, it held the distinction of being the quickets production bike in the world before becoming unseated by the venerable Kawasaki Z-1.

Own a distinctive piece of history.

$5,950


stock#1507

1998 Kawasaki
VN-800 Vulcan

41k miles, New rear tire, Highway bars, Floorboards, Driving lights, Tall windscreen, Bags, Saddleman Seat

$3,295


stock#1510

1971 BMW
R60/5

A true classic, patina at no extra charge!

$2,695


stock#1506

2004 BMW
R-1150R

20k miles, New Battery, nice condition

$3,895


stock#1505
Lower Prices on Yamaha R6s!!
2008 Yamaha
R6 R

New Price!

27k miles, cobalt blue

$5,995


stock#1492

2007 Yamaha
R6 S

New Price!

1,700 miles, very nice, s.t.

$4,995


stock#1486

2005 Yamaha
R6L

New Price!

8900 miles, New sapphire candy blue paintwork. s.t.

$4,995


stock#1465

2005 Yamaha
R6

New Price!

33k miles
new rear tire

$4,495


stock#1477
Sold:
2007 Suzuki
C-90 Boulevard

SOLD!

7k miles

$7,395


stock#1456

Street Skills Clinic
Blackhawk Farms Raceway
August 30th
8am-5pm
15538 Pairie Rd, South Beloit IL
$225/bike: Street Riders and Spyders
Bring motorcycle license, full face helmet, full leather gloves, jacket, tall boots, jeans. Bike must past tech inspection and have all mirrors and glass taped over (can do this on site)
Elevate your skills levels - training for motorcyclists and passengers, conducted on a race track. General safety procedures, vision and perception on the road, smooth cornering at speed, downshifting, body position, adjustments for riding with passengers
7 classroom sessions with 5 on track and 2 off track, passengers included.
After classes on August 30: 3rd Annual Broken Wing Benefit for the Road Racing World Air Fence Fund, Wing Cooking/Eating Contest, Beverages, Auction, Free Camping, Hot Showers
DISCOUNT for group of 5+ bikes
Questions? Please contact info@motovid.com or go to www.motovid.com



Sold:
1995 Yamaha
XV-1100 Virago

SOLD!

7,300 miles

$2,995


stock#1457
First Ducati in the 7's!
See the video on our youtube channel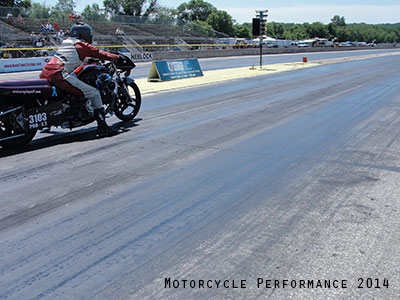 The Drag Ducati ran a 7.99 this Sunday, down at Byron Dragway. Great work to everyone involved, and thank you to the folks who came down to see it happen!



New! Customer Projects and Photos page!
Let us know if you would like to be featured!
Send photos and a description to mcperf@tds.net



Bonneville 2014 Fundraising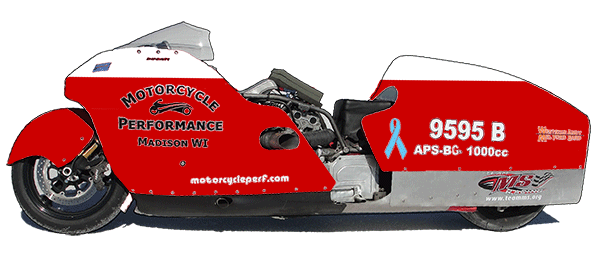 Thank you to all of our sponsors!
There is still time to become a sponsor! We are continuing to raise funds for the trip this year - see the fundraising page for details

SPONSOR T-SHIRTS
Available at the 2nd and 3rd tier of sponsorship
Limited production!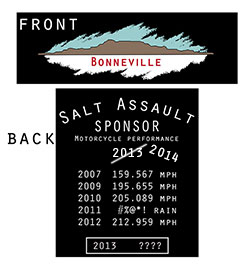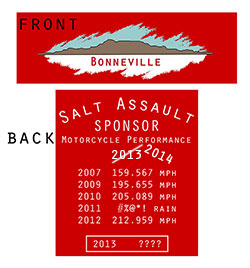 "YOUR NAME HERE" Fundraiser
The "Your Name Here" program is a grass-roots fundraiser that, if successful, would allow us to bypass the conventional big-sponsor process. This is an opportunity for an enthusiast to participate in what I feel is a unique program that has already shown substantial results. In order to make possible the goals we have set for 2014, we need financial help to get there. There is not necessarily an absolute guarantee of our expected performance (remember the soggy salt flats of 2011...) but you have the assurance of our best efforts to get there and make it happen.