Welcome to Motorcycle Performance. We offer top-level complete service on BMW, Ducati, Harley, Honda, Kawasaki, Suzuki, Triumph, and Yamaha motorcycles.
Our range of services includes everything from scheduled maintenance to complete engine overhauls. Chassis servicing here is second to none. The same people that mount our 212 mph tires take care of yours. The same goes for the brakes, chassis, and suspension work as well. If your driveline needs a little pep, we are your one-stop shop.
We bore and hone cylinders, rebuild transmissions, and offer all levels of service for cylinder heads. From a quick freshening up to new valve seats, even billet cylinder heads, we do it all. We use our own in-house people and technology to set records. Let us know what we can do for your ride.
HOURS:
Mon-Fri 9-6
Saturday 9-12
THANKSGIVING: CLOSED
TIRES
Restore that new-bike feel with new tires. We stock Michelin, Bridgestone, Dunlop, Shinko, Metzeler, Continental, Kenda, Pirelli, among others. Ask our experienced staff what works best for you and your riding style.

WINTER STORAGE
Cold weather is upon us - check out the Winter Storage Tech Tip!
Taking the time to make sure that your bike is hibernating happily will save you time and headache when you wake it up for spring riding.
We also offer winter storage!



SALE ENDS DEC 28th!


30% OFF

all Jackets


20% OFF

all Helmets and Gloves


10% OFF

all accessories (excluding oils)



Newly Added:
2003 Honda
CB-750 Nighthawk

13k miles, New battery. This low maintenance motor runs great!

$2,195

stock#1553

1982 Suzuki
GS750/1100 Custom

140 hp, monster torque. Raked GS-750 frame, GSXR wheels. 38 Mikuni carbs, V&H Pro Stock Sidewinder exhaust, 1327 motor with straight cut transmission. Sort of a grab-bag of air-cooled hotrod. No idea of internal condition of motor, leaks oil: may need cases (a set is included).

$2,995

stock#1205

2007 Yamaha
FZ-6

15k miles

$3,895


stock#1550

1998 Ducati
Monster 750

Extra power! s.t.

$2,695


stock#1556

The World Finals at Bonneville have once again been cancelled.
Both rain and weakened salt are to blame for once again putting a burr in our racing plans. The salt is being continually degraded by mining companies which have severely compromised this national treasure, which racers and environmental advocates alike are trying to save.
Please see the Save Our Salt campaign to learn more about this unfortunate issue.
Scientific American has recently published a good article detailing the current state of the salt flats: Read it here.



Customer Projects and Photos page!
Let us know if you would like to be featured!
Send photos and a description to mcperf@tds.net



Bonneville 2015 2016 Fundraising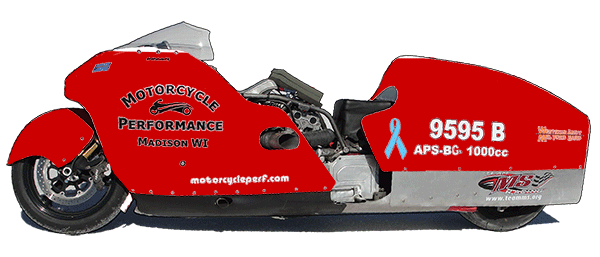 Thank you to all of our sponsors!
Thanks especially for your patience, as we battle the weather and mining companies to get back out onto the salt...
There is still time to become a sponsor! We are continuing to raise funds for the trip this year - see the fundraising page for details

SPONSOR T-SHIRTS
Available at the 2nd and 3rd tier of sponsorship
Limited production!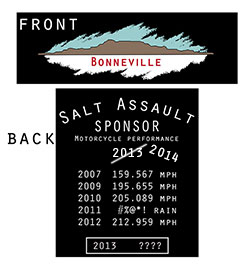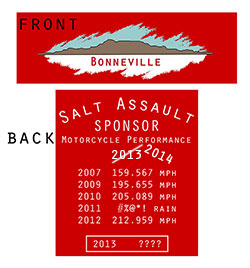 "YOUR NAME HERE" Fundraiser
The "Your Name Here" program is a grass-roots fundraiser that, if successful, would allow us to bypass the conventional big-sponsor process. This is an opportunity for an enthusiast to participate in what I feel is a unique program that has already shown substantial results. In order to make possible the goals we have set for 2014, we need financial help to get there. There is not necessarily an absolute guarantee of our expected performance (remember the soggy salt flats of 2011...) but you have the assurance of our best efforts to get there and make it happen.
Motorcycles motorcycle performance repair used motorcycle tires madison motorcycle shop welding oil change paint