Welcome to Motorcycle Performance. We offer top-level complete service on BMW, Ducati, Harley, Honda, Kawasaki, Suzuki, Triumph, and Yamaha motorcycles.
Our range of services includes everything from scheduled maintenance to complete engine overhauls. Chassis servicing here is second to none. The same people that mount our 212 mph tires take care of yours. The same goes for the brakes, chassis, and suspension work as well. If your driveline needs a little pep, we are your one-stop shop.
We bore and hone cylinders, rebuild transmissions, and offer all levels of service for cylinder heads. From a quick freshening up to new valve seats, even billet cylinder heads, we do it all. We use our own in-house people and technology to set records. Let us know what we can do for your ride.
HOURS:
Mon-Fri 9-6
Saturday 9-12

TIRES
Restore that new-bike feel with new tires. We stock Michelin, Bridgestone, Dunlop, Shinko, Metzeler, Continental, Kenda, Pirelli, among others. Ask our experienced staff what works best for you and your riding style.
World Finals at Bonneville are ON for 2016!!!

Newly added:
2007 Ducati
S2R Monster

7k miles, single sided swing arm, seat cowl

$4,890


stock#1574

2014 Honda
MSX-125 Grom

900 miles, 9.6 hp, 4-speed. Called "Monkey" everywhere else in the world, and "Grom" in the U.S. Too cute to stay here for long!

$2,795


stock#1576

2001 Honda
VT-750DC Ace

15k miles

$3,495

stock#1572
Sold:
2003 Honda
CB750 Nighthawk

SOLD!

13k miles, new tires, windshield!

$2,395


stock#1571

2007 Yamaha
R6 S

SOLD!

1,700 miles, very nice, s.t.

$4,995


stock#1486

2002 Harley Davidson
FHRCI Road King

SOLD!

Fuel injected, factory bags

$7,990
$7,495

stock#1532

Upcoming performance - not by any of us but by a longtime customer who is in the Cycropia performance group. Amazing feats of conditioning and coordination, and they are playing at:
Wisconsin Union Theatre
May 20th and 21st

http://www.cycropia.org/events/dates/
Check them out!



Thank you to everyone who came to the Motorcycle Maintenance Clinic! It was a great turnout and I hope some of your questions were answered. If you think of any more, please let us know!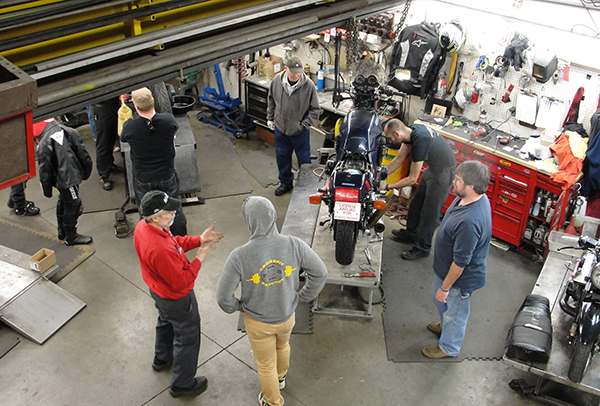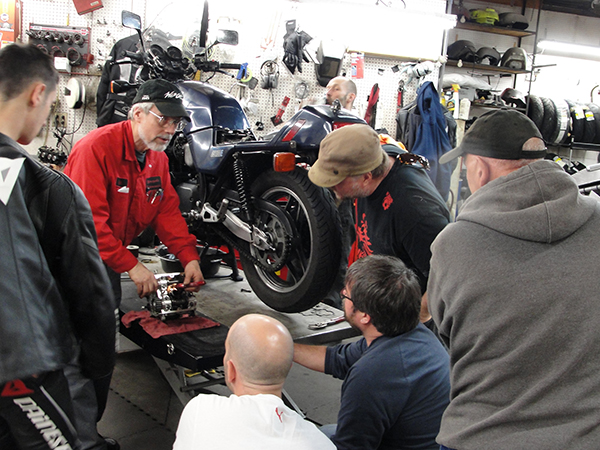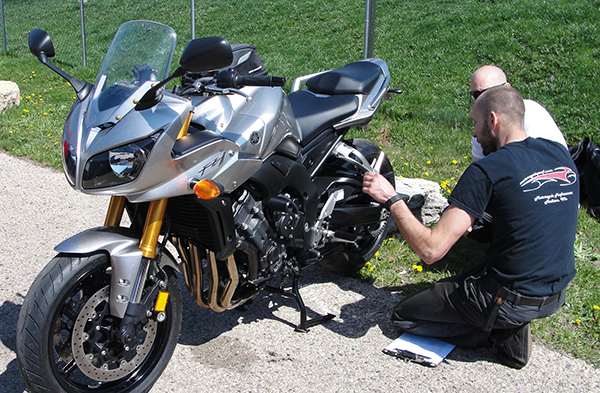 2004 Harley Davidson
FXDL Custom

18k miles, new paint, gorgeous design.

Spring sale!

$12,999
$8,999

stock#1527

1998 Harris
Magnum 5 Streetfighter

Built by William Weege (Motorcycle Performance) from frame kit purchased directly from Harris in Hertford, England. Kit is no longer available today.

This bike was featured in the September 2005 issue of Super Streetbike Magazine. Pain is PPG Harlequin Magenta-to-Gold, over black base on the bodywork, straight from the can on the rims.

Other features: 1996 Honda CBR900RR engine, LED headlights, taillights, & turn signals, Ohlins rear shock & steering damper, RC 51 Forks, Renthal handle bars, Dymag rims, Harris aluminum tank with locking cap... the list goes on.

Spring sale!

$13,995
$9,995

stock#cons11

Customer Projects and Photos page!
Let us know if you would like to be featured!
Send photos and a description to mcperf@tds.net



Bonneville 2015 2016 Fundraising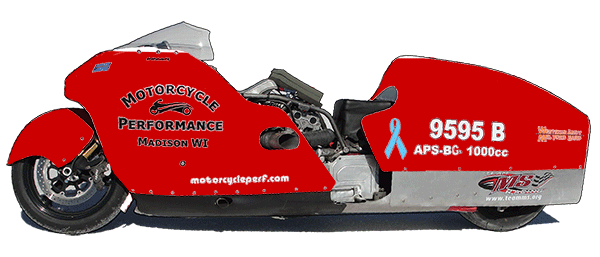 Thank you to all of our sponsors!
Thanks especially for your patience, as we battle the weather and mining companies to get back out onto the salt...
There is still time to become a sponsor! We are continuing to raise funds for the trip this year - see the fundraising page for details

SPONSOR T-SHIRTS
Available at the 2nd and 3rd tier of sponsorship
Limited production!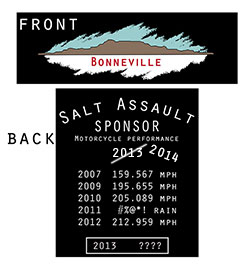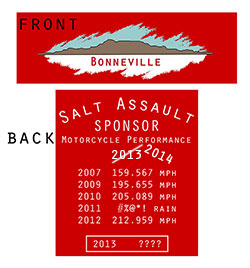 "YOUR NAME HERE" Fundraiser
The "Your Name Here" program is a grass-roots fundraiser that, if successful, would allow us to bypass the conventional big-sponsor process. This is an opportunity for an enthusiast to participate in what I feel is a unique program that has already shown substantial results. In order to make possible the goals we have set for 2014, we need financial help to get there. There is not necessarily an absolute guarantee of our expected performance (remember the soggy salt flats of 2011...) but you have the assurance of our best efforts to get there and make it happen.
Motorcycles motorcycle performance repair used motorcycle tires madison motorcycle shop welding oil change paint