Welcome to Motorcycle Performance, in business at the same location for over 35 years.
We repair motorcycles, design and fabricate parts, do custom painting, build land-speed racers, and of course we are glad to do regular maintenance on your bike.
HOURS:
Mon-Fri 9-6
Saturday 9-12
TIRES
We have a large selection of tires including:
Metzeler, Dunlop, Michelin, Bridgestone, Pirelli, Continental, Kenda, and Shinko

Newly Added:
2007 Hyosung
GV-250 Aquila

less than 1000 miles

$1,995


stock#1540

2000 Suzuki
SV-650

23k miles, Yosh slip-on exhaust

$2,195


stock#1541
Sold!
2008 Ducati
M-695 Monster

SOLD!

Very nice, new gauges-not actual mileage

$4,195


stock#1535

2008 Harley Davidson
XL-1200L

SOLD!

Fuel injected, excellent value

$5,990


stock#1533

1983 Honda
VT-750 Shadow

SOLD!

Shaft Drive

$1,995

$1595

stock#1469

2005 Suzuki
GSXR-600

SOLD!

17k miles, Micron slip-on, Anniversary Blue

$4,990


stock#1482

Newly Added:
1998 Harris
Magnum 5 Streetfighter

Built by William Weege (Motorcycle Performance) from frame kit purchased directly from Harris in Hertford, England. Kit is no longer available today.

This bike was featured in the September 2005 issue of Super Streetbike Magazine. Pain is PPG Harlequin Magenta-to-Gold, over black base on the bodywork, straight from the can on the rims.

Other features: 1996 Honda CBR900RR engine, LED headlights, taillights, & turn signals, Ohlins rear shock & steering damper, RC 51 Forks, Renthal handle bars, Dymag rims, Harris aluminum tank with locking cap... the list goes on.

Also included: Wiseco high-compression big bore kit, New Carrillo rods, Vance and Hines CDI box pre tps type, all spare parts, New bare head, used transmission and cases.

$13,995


stock#cons11
New Paint:
2004 Ducati
Monstrada

15k miles, Adventurous custom, New tank paint by Madison College.

$4,995



stock#1534

Customer Projects and Photos page!
Let us know if you would like to be featured!
Send photos and a description to mcperf@tds.net



Bonneville 2014 2015 Fundraising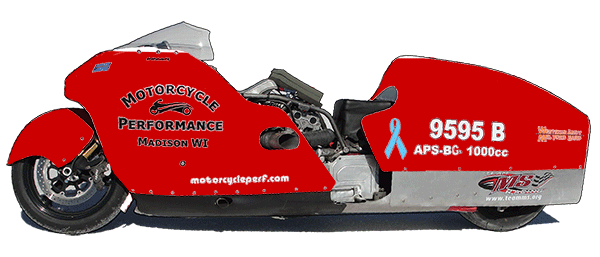 Thank you to all of our sponsors!
There is still time to become a sponsor! We are continuing to raise funds for the trip this year - see the fundraising page for details

SPONSOR T-SHIRTS
Available at the 2nd and 3rd tier of sponsorship
Limited production!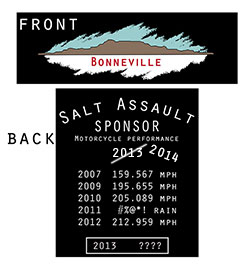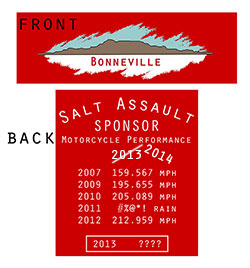 "YOUR NAME HERE" Fundraiser
The "Your Name Here" program is a grass-roots fundraiser that, if successful, would allow us to bypass the conventional big-sponsor process. This is an opportunity for an enthusiast to participate in what I feel is a unique program that has already shown substantial results. In order to make possible the goals we have set for 2014, we need financial help to get there. There is not necessarily an absolute guarantee of our expected performance (remember the soggy salt flats of 2011...) but you have the assurance of our best efforts to get there and make it happen.