Welcome to Motorcycle Performance, in business at the same location for over 35 years.
We repair motorcycles, design and fabricate parts, do custom painting, build land-speed racers, and of course we are glad to do regular maintenance on your bike.
HOURS:
Mon-Fri 9-6
Saturday 9-12
TIRES
We have a large selection of tires including:
Metzeler, Dunlop, Michelin, Bridgestone, Pirelli, Continental, Kenda, and Shinko

38 Years of Motor Journalism with Peter Egan
Sunday April 26 2:00 pm
Black Earth library is hosting a talk by renowned writer Peter Egan. You don't want to miss this! He will be talking about his work with Cycle World and Road & Track, as well as his numerous adventures on the road and in the air (flying small planes across the country!)
http://www.bepubliclibrary.org/
They will also be screening:
"American Cafe"
Saturday May 2, 10:00am

This is a great film on cafe racers and the Slimey Crud Motorcycle Gang that we would highly recommend to anyone remotely interested in motorcycles. Watch the film and meet the director, Matt Cribben!



Q&A at the Shop and SCMG Film Festival!
Saturday, May 2nd
1:00-3:00 pm
Another "Bull Session!" We will have some coffee on and open to discuss whatever may be on your mind motorcycle-wise, and if we run out of things in that vein, we can move on to other subjects. I have been in the industry for forty years now, and have seen the start of most every trend in play today. Bring your questions!
If you have something you were always wondering about, about tuning, riding, racing, motorcycling history... whatever you might be wanting to know! Bring your questions, pull up a chair and we will chat. All are welcome.
Afterwards we will head over to the Barrymore Theatre for the 6th annual SCMG Film festival, featuring "The John Penton Story"
Barrymore Theatre
2090 Atwood Ave, Madison WI
6:30pm
(come at 5:30 to hang out with fellow motorcycle enthusiasts and admire all of the bikes parked out front)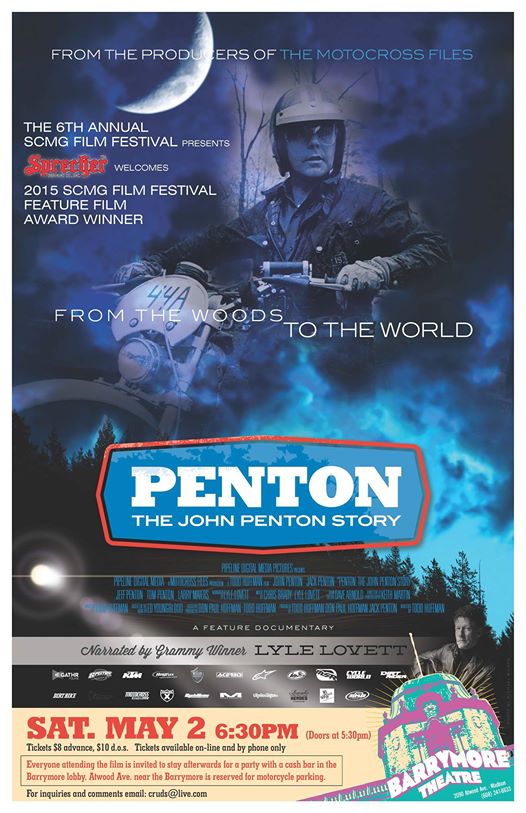 See you there!



Sold!
2003 Kawasaki
KLR-650 Adventure Bike

SOLD!

8400 miles, Fully Farkled

$3,595


stock#1536
Price Reduction:
1983 Honda
VT-750 Shadow

Shaft Drive

$1,995

$1595

stock#1469

Newly listed:
1974 Yamaha
DT-250A

4k miles, one owner, the quintessential "Enduro bike" and the start of it all

$2,595


stock#1539

SOLD:
2005 Yamaha
R6

SOLD!

33k miles
new rear tire

$4,495


stock#1477

2012 Honda
NC-700X

SOLD!

1800 miles, digital gas gauge, Sport-touring twin, amazing ride quality. s.t. Unique trunk space (see pictures!)

$4,695

stock#1529

2003 BMW
R-1150R

SOLD!

24k miles, Pure motorcycling

$4,295


stock#1518

1997 BMW
R-850R

SOLD!

77k miles, s.t.

$2,992


stock#1528

Newly Added:
2003 Honda
VT-750DC

29k miles, new tire and chain

$3,950



stock#1537

2004 Ducati
Monstrada

15k miles, Adventurous custom, some cosmetic tank damage

$4,995



stock#1534

2003 Kawasaki
KLR-650 Adventure Bike

8400 miles, Fully Farkled

$3,595


stock#1536

Newly Added:
2003 Suzuki
GSX-1300R Hayabusa

Price Reduction!

210 hp, big bore, cams, Hindl exhaust, s.t.

$8,499


stock#1135

2008 Ducati
M-695 Monster

Very nice, new gauges-not actual mileage

$4,195


stock#1535

2004 Harley Davidson
FXDL Custom

18k miles, new paint, gorgeous design

$12,999


stock#1527

2002 Harley Davidson
FHRCI Road King

Fuel injected, factory bags

$7,990


stock#1532
Sold:
2004 Harley Davidson
XL-1200C

SOLD!

15k miles, mild custom, very nice!

$4,990


stock#1521

Sold:
2007 BMW
R-1200RT

SOLD!

25k miles

$9,450


stock#1485

2011 Honda
CBR-600RR

SOLD!

900 miles
(yes, that's right)
s.t.

$7,495

stock#1428

2006 Harley Davidson
FLHX Street Glide

SOLD!

28k miles, Bad-Ass
Has something extra!

$10,999


stock#1519

Customer Projects and Photos page!
Let us know if you would like to be featured!
Send photos and a description to mcperf@tds.net



Bonneville 2014 2015 Fundraising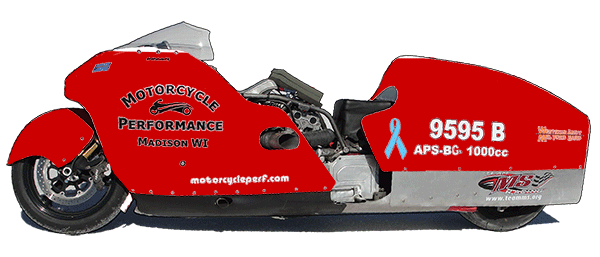 Thank you to all of our sponsors!
There is still time to become a sponsor! We are continuing to raise funds for the trip this year - see the fundraising page for details

SPONSOR T-SHIRTS
Available at the 2nd and 3rd tier of sponsorship
Limited production!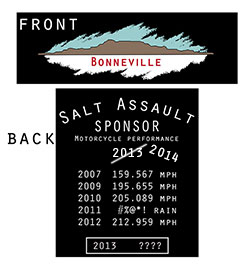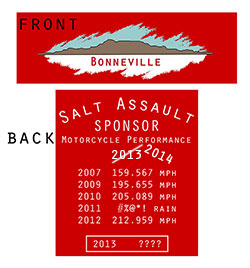 "YOUR NAME HERE" Fundraiser
The "Your Name Here" program is a grass-roots fundraiser that, if successful, would allow us to bypass the conventional big-sponsor process. This is an opportunity for an enthusiast to participate in what I feel is a unique program that has already shown substantial results. In order to make possible the goals we have set for 2014, we need financial help to get there. There is not necessarily an absolute guarantee of our expected performance (remember the soggy salt flats of 2011...) but you have the assurance of our best efforts to get there and make it happen.