Welcome to Motorcycle Performance, in business at the same location for over 35 years.
We repair motorcycles, custom fabricate parts, build land-speed racers, and of course we are glad to do regular maintenance on your bike.
WE BUY BIKES!
Winter is Coming....
See our article on Prepping your Bike for Winter
We also provide winter storage - call for details

Newly Added:
1981 Honda
CB-650 Custom

very clean

$1,595


#1479

2009 Kawasaki
KLR-650

20k miles, Dual Sport
new tire

$3,895


#1475

2005 Yamaha
R6

33k miles
new rear tire

$4,995


#1477

Newly Added:
2009 Kawasaki
EX-500 Ninja

SOLD!

1,700 miles


$3,995

#1458

Newly Added:
2008 Ducati
S2R-1000 Monster

7700 miles, s.t.

$5,495

#1471

1983 Honda
VT-750 Shadow

Shaft Drive

$1,995

#1469

2013 Kawasaki
Ex-300 Ninja

300 miles,
fuel injected, s.t.

$3,595

#1467

1994 Kawasaki
ZX-11D


large sportbike

$2,795

#1469

Great Turnout for the Movie Release Party!
Thank you to everyone who came out on Tuesday to see the bikes and congratulate the filmmakers on the release of the Bonneville Project. (They do fantastic work – check it out here!)
The DVD release/shop party on the 12th was well-attended at Quaker Steak and Lube. A great turnout of enjoyable people made it a memorable evening. The Slimey Cruds stopped in to add their unique spin as well! Thanks to the excellent staff at that fine establishment!
Thanks again for stopping in, and stay in touch!



Jim Haraughty featured in Ultimate Motorcycling!
(click link to read the article)
Jim is the founder of the racing group Team MS
Article by Gary Ilminen



Newly Added:
1985 Suzuki
GS-550ES

affordable riding

$1,695


#1460

Out Racing at Byron Motorway
Racing went so well last weekend, we decided to go again!
The Nitro bike ran an 8.43 at 158.46mph! (previous best time was 8.68, set the previous weekend)



Bikes Added:
2007 Suzuki
DR-200SE

Electric start,

$2,695


#1470

1986 Honda
VT-500C Shadow

28k miles, just serviced
new battery, shaft drive

$1,895


#1468
Price Reduction:
2000 Ducati
996S

22k miles, very clean

$5,900

#1455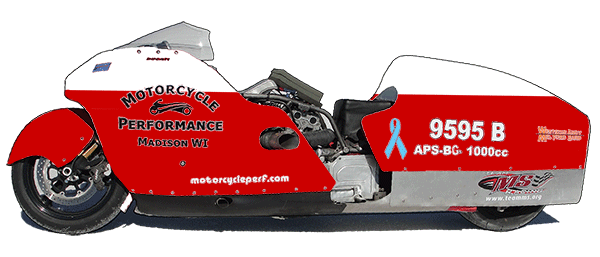 Thank you to all of our sponsors!
There is still time to become a sponsor! We are continuing to raise funds for the trip next year - see the fundraising page for details

SPONSOR T-SHIRTS are now designed!
Available at the 2nd and 3rd tier of sponsorship
Limited production!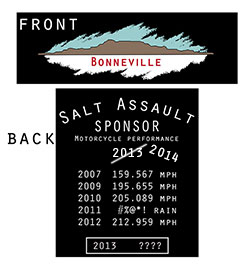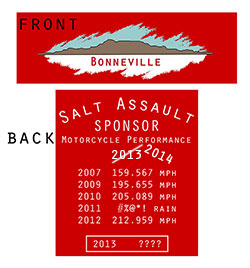 "YOUR NAME HERE" Fundraiser
The "Your Name Here" program is a grass-roots fundraiser that, if successful, would allow us to bypass the conventional big-sponsor process. This is an opportunity for a "Regular Joe/Josephine" to participate in what I feel is a unique program that has already shown substantial results. In order to make possible the goals we have set for 2013, we need financial help to get there. There is not necessarily an absolute guarantee of our expected performance (remember the soggy salt flats of 2011...) but you have the assurance of our best efforts to get there and make it happen.